---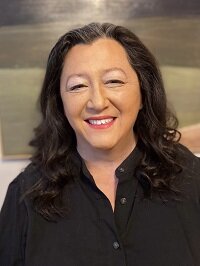 Obituary of Vicki Cynthia Matthews
Please share a memory of Vicki Cynthia to include in a keepsake book for family and friends.
With heartbreaking sadness, the family of Vicki Matthews share news of her recent passing after a brief but courageous battle with lymphoma.
On January 10, 1959, in a quiet suburb of London, England, a star was born. Welcomed by her beloved father, Gene, doting mother, Theresa, and sisters, Martine and Anita, Vicki Cynthia Matthews entered the world in the most ordinary of ways. That was the last time she would be unassuming, about anything.
Vicki's early years were punctuated by love, laughter, a healthy preoccupation with hijinks (that would last throughout her life) and countless adventures with her sisters in the family garden. The first big adventure of Vicki's life took place at age seven, when the family immigrated from London, England to Toronto, Canada in the sixties. "Jerimiah was a Bullfrog" was her favourite song, her love of dogs and horses (all animals, really) was well underway and her earliest memory of school in Canada was when she proudly declared Toronto was the Nation's Capital, much to the delight of her new chums. In Vicki's defense, her dad had taught her it was so.
Chasing adventure was a familial habit. As her father built his career throughout Ontario, the family moved from Toronto to Timmins and Oakville before coming back to Toronto. During that time, Vicki was gifted the first love of her life, Goldie, a palomino mare who shared the same headstrong personality as her young owner. It was a match facilitated by Vicki's parents but unequivocally made in heaven. When explaining her love of Goldie, Vicki would simply say: "after the births of my three children, getting Goldie was the fourth happiest day of my life".
In high school, Vicki found success on the field and around the track. A fierce field hockey player, and tenacious runner, athletic pursuits fuelled by her unrelenting competitive nature were of greater importance to Vicki than academic ones. Her mother, keen to support Vicki's love of sports, always packed Vicki's favourite thing for lunch: chicken. So great was this love that her teammates and coaches presumed she lived on a chicken farm. Vicki can be quoted as proudly exclaiming "I've only ever met one person who might love chicken as much as me – Jenn Kendrick". Though there were countless stories about sports (and chicken) the singular story of her academic career was when she fell asleep in math class and the teacher woke her by clapping chalk encrusted board erasers on her face. It only happened once.
Perhaps the most significant tidbit of her high school years is that she met and fell in love with Peter. Well before they ever got married, Vicki also fell in love with the entire Traynor family, especially its' matriarch, whom she never stopped calling "Mrs. Traynor". A favourite story of Vicki's was how she made dinner, specifically sweet and sour chicken (relevant because the sauce is red) for Mr. Traynor and the boys while Mrs. Traynor was out of town. After she finished cooking, Vicki changed into a white dress for dinner. During the meal, Peter's youngest brother, Pat attempted to serve himself only to lose control of the chicken and splash Vicki's dress. What followed can only be described as horror, self-inflicted humiliation for Pat, eventual laughter and a lifetime of story telling. That is what it meant to be around Vicki. She never let you forget but was always ready to laugh. When Vicki and Peter got married, both families doubled in size. Although the marriage didn't stand the test of time, the families never stopped being intertwined, a reality that meant so much to Vicki.
Vicki's next chapter was hallmarked by motherhood, a job she took so seriously and fiercely. Her babies were her everything. She delighted in all that they did at each stage of life, from first teeth and steps to sports, academics, graduations, marriages, births, and beyond. Vicki made sure birthday parties were next level, Christmases memorable and Halloweens spooky. Most importantly, through her example, Vicki instructed her children to make every day meaningful. To find joy in the seemingly mundane and to relentlessly pursue their dreams. Her mother's intuition was second to none whether it was staying quiet after a tough loss, an unsolicited invitation to "have a porch sit" or simple "XO" text. Her children were taught to love radically because that is how she loved them from before their first breaths until her final one and beyond. Vicki always knew what her children needed and that is what she gave them.
Vicki loved reading and seized every opportunity for learning she could. It was only natural that after Stephen graduated high school, Vicki decided it was time for her to return to school and completed a diploma in Business Administration from NSCC. Highlights of her time there included being offered a magical pre-exam elixir from a nervous classmate and countless wonderful conversations with faculty members. Her children were there to support her on every step of the way and were thrilled to cheer loudly at her graduation. From there she relaunched her career firstly by getting into financial services before moving to the co-operative sector at Just Us! Coffee Roasters. She loved her job and her customers. Vicki was joyful when her accounts grew, not for personal gain but because it meant small businesses were thriving. This joy was a significant part of her delight in joining the Board of the Nova Scotia Co-operative Council, an organization she was so happy to give her time to.
Professionally and possibly personally, Vicki was often misunderstood to be a perfectionist. But that couldn't be further from the truth. Vicki believed that excellence and success were found in the pursuit of perfection not because of it. To be pushed by Vicki was to be believed in by her and ultimately, to be loved by her. If Vicki knew of even the smallest amount of untapped potential, she would ensure not only that you were aware of it, but that you worked to be the very best you could be. The same was true for any organization she was involved in. Effort was non-negotiable, perfection was always the lofty goal and combined they were excellence.
In her minimal spare time, Vicki was a passionate bridge player and proud member of the Ken-Wo Bridge Club. She played as often as she could manage and cherished each hand played, especially when it was with her long-time bridge partner, Pam. She loved updating her children on her latest accumulation of Master Points and even managed to coerce Britt into lessons, once. Never one to miss a teaching or learning opportunity, Vicki grew fond of the saying "play the cards you're dealt not the ones you wish you had." That is exactly what she did.
Beyond her intelligence, humour and quick wit, Vicki could be counted on no matter what. If she committed to something, she always followed through. She was a beautiful pairing of tenacious force while always being a safe place to land.
After her children, Vicki's delight came from her grandchildren. She was thrilled Lily and Gabe were enjoying equine pursuits and had tremendous fun teaching Eleanor important things about the world, everything from how commodities are traded to planting pollinator friendly gardens. Vicki was so excited to welcome Maisie Marie to the family and couldn't wait to accompany her on adventures through life.
A constant throughout her life was her love of God. Vicki took pride in describing her faith as a simple one, she loved the Father, Son and Holy Spirit and knew she was loved reciprocally. Her faith life gave her courage and grace as she faced challenges throughout her life. Vicki loved to sing, especially at mass. She acknowledged she was terrible but was quick to remind her children that God appreciated her praise anyway.
Vicki was predeceased by her parents, Gene and Theresa and beloved grandson, Jack, who she helped deliver. She is survived by her children, Jordan (Tommy), Brittany and Stephen (special daughter, Chelsey); grandchildren, Benjamin, Lily, Gabriel, Eleanor and Maisie; special friend, Christine Lemieux (Terry Watters) and sisters, Martine and Anita (Mark).
Although her courageous battle was shorter than she hoped, knowing that the end was an inevitable conclusion, Vicki made sure the things she wanted to say could be said:
To the basketball boys, I am so proud of the fathers, partners, husbands and men you have become. Keep being good.
To Christine, Thank you, for everything.
To Jordie, Brittie, Stevie, Lily, Gabe, Ellie, Maisie and any grandchildren yet to come, Mummy/Granny/Nene had this to say: never forget how much you are loved by me. Always.
Vicki's family extends their heartfelt gratitude to staff at the Valley Regional Hospital, QEII – Halifax Infirmary and QEII – VG Site for all the care they gave Vicki and our family during one of the hardest periods of our lives. Particularly, Vicki wanted to thank two people who she watched grow from children to doctors, Dr. Jay Han and Dr. Adam Harris for their kind offers of support to her family during her illness. It gave her great comfort knowing that her children had people like you and a large community of loved ones, to help them.
Vicki's care has been entrusted to DeMont Family Funeral Home, 419 Albert St, Windsor, dear friends who Vicki knew she could count on to take care of her family during this time. At her request, her funeral will be privately observed by her closest family. She will be buried in St. Francis of Assisi Roman Catholic Cemetery, Wolfville, next to her grandson. Friends and family wishing to acknowledge their grief and honour a life beautifully lived are invited to contribute to an organization Vicki cherished because of its impact on her own life and those of her family, the Valley Regional Hospital Foundation, PO Box 911, Kentville, NS B4N 4H8, (www.vrhfoundation.ca). Messages of condolence may be sent to the family by visiting: www.demontfamilyfuneralhome.ca