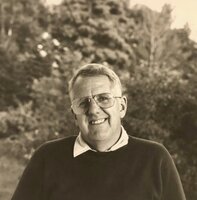 Dennis William "Denny" Baxter
It is with a heavy heart that we announce the passing of our father, Dennis William "Denny" Baxter, age 91, at his residence in the Windsor Elms Village, Falmouth, on Monday, January 30, 2023. He was born in Halifax on a stormy winter's day on January 23, 1932, to Lewis and Edith (Crossley) Baxter.
Denny was truly a wonderful husband, father, grandfather, brother and friend, who will be dearly missed. Growing up a Halifax city boy who graduated from Queen Elizabeth High School, he was a man that was "salt of the earth". Pursuing his passion of nature, he moved to Sackville as a young man with a zest for life. He was a successful business owner and one of the original property owners on Sackville Drive. For over 50 years he served the Sackville community as the proud owner of the Sackville Garden Center and Baxter's Flower Shop. Denny was a well-known expert on horticulture and plant care in his community and generously shared his wisdom with all. Not only was he a hard worker he was gentle, humble and kind in character. He loved animals especially dogs and could always be found with a faithful companion by his side.
Denny was a loving, sacrificial and dedicated father to his three surviving children, Rich (wife, Carrie), Brad (wife, Tasha-Lynn) and Tammy (husband, George). One of his greatest pleasures of his life was spending time with his grandchildren, Nathan, Jeffery, Joy, Hope, Alex, Ewan, Norah and Henry.
Besides his parents, he was predeceased by his wife, Ruth (McAuley); child, Jonathan; grandchild, Bella Rose and brother, George
The family would like to thank the staff of the Windsor Elms Village for all the loving care given to Denny over the last seven years and to all the special people that made it his home.
Arrangements have been entrusted to DeMont Family Funeral Home & Cremation Service, 419 Albert St., Windsor (902-798-8317), where a funeral service will be held at 11:00 a.m., Friday, February 3 (masks are encouraged), Rev. Tom Henderson officiating. Burial will follow in St. John the Evangelist Anglican Cemetery, Old Sackville Rd., Lower Sackville. Messages of condolence may be sent to the family by visiting: www.demontfamilyfuneralhome.ca