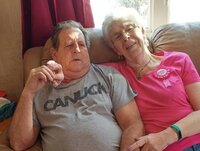 Frankie McKay "Frank" Rafuse
Age 69, of Cheverie, died peacefully on Monday, October 17, 2022 in Hants Community Hospital, Windsor. Born on January 21, 1953 in Windsor, he was a son of the late Clark and Olive (Rafuse) Rafuse.
Frank was an interesting man and had many friends scattered around the countryside. He was knowledgeable and proficient in many areas and could fix, build or fabricate just about whatever he set his mind to, sometimes with limited resources. He was equally at home in the woods, barn or in the kitchen and was an excellent cook and baker. In his earlier years he enjoyed his teams of oxen and was a regular at the Hants County Exhibition, among others, where he also pitched in to help his brother Lloyd prepare meals in the O'Brien Building. A few weeks ago, although in poor health, he prepared dozens of bottles of pickles and preserves, knowing full well he wouldn't get to enjoy them himself but his friends and family would. Frank's baked beans and homemade bread were second to none and when his buddies dropped in to visit, they never left hungry. Frank and Hilda were together for 35 years and he missed her as much as the day she died and was looking forward to seeing her again.
Thanks to all the medical professionals, first responders and his many friends that helped Frank during his illness. He loved having people around and took great comfort in all your visits. Special thanks to Amber, Bev, Carol, Paul, Jeff and Paul, to name a few. It would be impossible to list everyone.
Frank is survived by sisters, Betty Chandler; Barbara (John) Leckie; Pearl (Dennis) Mosher; sister-in-law, Evelyn Rafuse; brothers, Lloyd, Gary (Heather) and Mike (Pam); many nieces, nephews and extended family.
Besides his parents, Frank was predeceased by his partner, Hilda Murphy (2021); sister, Karen Phyllis "Bib" Rafuse; sister-in-law, Sandy; brothers, Owen (Shirley), Clark "Jr." (Kitty) and Paul; brother-in-law, Basil Chandler.
Arrangements have been entrusted to DeMont Family Funeral Home & Cremation Service, 419 Albert Street, Windsor (902-798-8317). A public graveside service will be held 2:00 p.m., on Saturday, October 22, in Cheverie United Church Cemetery, 2093 New Cheverie Rd., Rev. Jeff Bursey officiating, assisted by Lois Brison-Brown. If necessary, please bring a chair and umbrella. In lieu of flowers, donations in memory of Frank may be made to Summerville & District Volunteer Fire Department, 59 Summerville Wharf Rd., Summerville, NS B0N 2K0 or charity of one's choice. Messages of condolence may be sent to the family by visiting: www.demontfamilyfuneralhome.ca