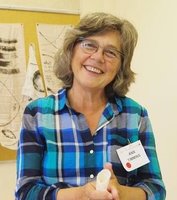 Ann Gertrude Timmins
Age 66, of Moose Brook, Hants Co., passed away peacefully with her family by her side, on Wednesday, February 27, 2019 in Hants Community Hospital, Windsor. Born in Ringwood Hampshire, Great Britain, she was the daughter of the late Oliver "Tiger" and Sheila (McHardy) Timmins.
Ann was a loving wife, mother, grandmother and friend. She graduated from Nova Scotia College of Art and Design in 1977, Ontario College of Art in 1981 and the College of Geographic Sciences in 1986. As a vibrant artist working with textiles and acrylic paints, she had a huge impact on the art community in Northern and Western Canada. She was very active and loved the outdoors which inspired her and was brought to life in her artwork. Ann was a very passionate person, she loved her artwork and her family very much.
She was survived by her husband, Adrian Boyd; sons, Morgan (Liz) Pierce, Calgary, AB; Jayson Boyd, Squamish, BC; daughter, Abbey Boyd (Thomas Ouillette), Yellowknife; grandsons, Hudson and Oliver Pierce; brothers, Sidey (Alice) Timmins, Washington, DC; Wyndham (Diana) Timmins, Sydney, Australia; Oliver (Lisa) Timmins, Comox, BC and George Timmins, Tofino, BC; step-mother, Shona Timmins, Ottawa, Ont.
Arrangements have been entrusted to DeMont Family Funeral Home & Cremation Service, 419 Albert St., Windsor (902-798-8317), where a funeral service celebrating Ann's life will be held Monday, March 4 at 11:00 a.m., Rev. Bill Gibson officiating. A reception will follow in the funeral home's Elmcroft Reception Centre. In lieu of flowers, donations in Ann's memory may be made to the Canadian Cancer Society, 5826 South St, Halifax, NS B3H 1S6 or to a charity of one's choice. Messages of condolence may be sent to the family by visiting: www.demontfamilyfuneralhome.ca