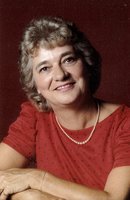 Edith Faye Hannam
It is with great sorrow that the family of Edith Faye "Edie" Hannam, 82, of Windsor, announces her passing on Sunday, December 23, 2018 in Hants Community Hospital, Windsor. Born in Bridgetown, she was the second daughter of the late Kenneth Lamont and Iola Blanche (DeEll) Durling.
She was an avid basketball player during her time at Bridgetown High School and graduated in 1955. Upon graduation she worked in Bridgetown and then at CFB Greenwood. In 1958 she married Walter Deblois Hannam of Bridgetown and started their life together at CFB Greenwood. She moved with him and their three children to Comox, BC where they spent 10 years from 1966-1976 when the family was transferred to Summerside, PEI from 1976-1978. Another transfer brought the family full circle back to CFB Greenwood from 1978 through to 1991 when they retired. During her time in Greenwood, she became an avid five-pin bowler traveling around NS and to PEI, NB, and NL for tournaments. After the children got older, she spent several years working at the bookstore and the Leisureland store in the Greenwood Mall. After several retirement years in Greenwood, she and Walter moved to the Windsor area in July 1996 where they lived until his death in October of 2011 and hers in 2018.
Edith is survived by her children, Cindy (Steven) Hutchinson, Mount Uniacke; Thomas Hannam, Bridgewater; Timothy (Danna) Hannam, Eastern Passage; sisters, Linda (Danny) Thibodeau, Saskatoon, SK; Ramona Vidito, Burlington, ON; brother, Steve (Elaine) Durling, Mulgrave; grandsons, Colin (Natalie) Hutchinson, Brandon Hannam, and Marcus Hannam; great-grandson, Cole Hutchinson; and several nieces and nephews.
She was predeceased by brothers, Kenneth, Ronald and Robert Durling.
Arrangements have been entrusted to DeMont Family Funeral Home & Cremation Service, 419 Albert Street, Windsor (902-798-8317). A private family funeral service will be held. A private family interment will take place in Riverside Cemetery, Bridgetown. In lieu of flowers, donations in memory of Edith may be made to the Kidney Foundation of Canada Atlantic Canada Branch, 404-212 Queen St., Fredericton, NB E3B 1A8. Messages of condolence may be sent to the family by visiting: www.demontfamilyfuneralhome.ca