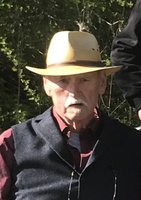 Willard Morris Wood
WOOD, Willard Morris
Often called the Gentle Giant or "the big guy on the bike", Willard's journey ended on June 4, 2018 after a short but gallant fight with pancreatic cancer. He was surrounded by family and friends from the beginning to end, and the community held him in their hearts along the way.
Willard was a passionate, community minded man and held his family in the highest regard. He taught loyalty, pride, and ownership. Most people who met Willard were impacted by him in some way. He was rarely satisfied with the status quo and often went the extra mile for no other reason than his strong principles. Willard had no problem holding others accountable for their actions, even in the face of opposition. The community is better in many ways because of his ideas, visions, and perseverance.
Willard was a proficient electrician and tradesman. Many will remember him through his music store, Moe's Place Music. He was a strong supporter of local talent and business; the town has and will continue to benefit from this passion.
He was a steward of traditional craftsmanship, making art from wood, leather, stones, fiber, and paint. In addition to this art, he built guitars, canoes, and furniture.
One of his most recent passions was cycling with his wife, they enjoyed kilometers together all over the world.
Willard is survived by his wife, Monique; children, Adrienne, Anthony, Tyson, Willie; grandchildren, Lilia, Alena, Mayah, Max, Alexa, Willow; sisters, Shirley, Eunice, Sandra, Donna, Debbie.
He was predeceased by his parents, Lionel and Edith (Harvie) Wood; brother, Blair.
Arrangements have been entrusted to DeMont Family Funeral Home & Cremation Service, 419 Albert St., Windsor (902-798-8317). A Celtic Wake will be held in his honour on Sunday, June 10 from 5-9 p.m. at the Horton Ridge Malt & Grain Co., 2504 Ridge Road, Hortonville. In lieu of flowers, donations in memory of Willard may be made to the Palliative Care Unit at the Hants Community Hospital or the Avon Region Active Transportation Working Group. Messages of condolence may be sent to the family by visiting: www.demontfamilyfuneralhome.ca