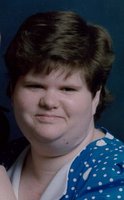 Nancy Lynn Forbes
FORBES, Nancy Lynn, R.N.
On the cool afternoon of Monday, April 9, 2018, with family by her side, Nancy Lynn Forbes quietly said goodbye.
After graduating from Windsor Regional High School she completed the C.N.A. course at Windsor Vocational School. She worked as a CNA at Toronto East General Hospital for two years before enrolling in the three year R.N. program at Centennial College in Toronto. Nancy became a wonderful nurse, dedicated herself to the care of others working at the Toronto East General Hospital, as a travelling nurse in much of the United States and then at Morton Plant Hospital, Florida. 13 years later she returned to Nova Scotia and completed her career at Haliburton Place, Windsor. She retired because of ill health in February 2017.
Growing up Nancy enjoyed Sunday School, singing in the Junior Choir, Explorers, C.G.I.T., Brownies, Guides, Figure Skating, Highland Dancing, playing her Clarinet in the High School Band and acting in school plays. Nancy was a hardworking, fun loving person who enjoyed spending time at the Brule Point cottage, travel to new places, attending concerts, good music, good friends and good food.
She loved her Chihuahua Princess, who came home from Florida with her and was saddened when Princess left her in 2014. Nancy found new joy when Chihuahua Ceilidh joined the family a year later. Her love for the two dogs was returned in full and they were always overjoyed to see her return after absences short or long.
Nancy leaves behind her mother, Karen (Gunn) and step father, Peter Rowlands; uncles, John (Lynn) Gunn and Roland (Elizabeth) Forbes; cousins, David (Karen) Gunn, Andrea (Mark) Bishop, Wendy (Scott) Radford, Kathleen (Rick) Barkhouse; step brothers and sisters, Bryn (Sylvia) Rowlands, Bruce (Catherine) Rowlands, Kathleen (David) Stewart, David Rowlands, Kim (Steve) Oliver, Arthur (Janet) King, Shelly (Shane) Leadbeater, Christine (Darrell) Olson; godsons, Nicholas and Michael Pinder; her extended Newfoundland Family and many personal and professional friends throughout the USA and Canada.
Nancy was predeceased by her father, Charles Lewis (Joan) Forbes (2009), her grandparents, Murray and Jean Gunn; Charles and Kathleen Forbes; special friend, Sue Pinder.
A special thank you to family doctor, Dr. Paige Stevens and the staff, doctors, nurses and staff at the QEII Hospital, Halifax and Rev. David Hann.
Arrangements have been entrusted to DeMont Family Funeral Home & Cremation Service, 419 Albert St., Windsor (902-798-8317), where the family will receive visitors on Tuesday, April 17 from 6 - 8 p.m. A celebration of Nancy's life will be held at Windsor United Church, 613 King St. on Wednesday, April 18 at 2 p.m. with Rev. David Hann officiating. A reception will immediately follow in the church annex with interment at a later date. Family flowers only please. Those wishing to remember Nancy may make a donation to: Canadian Liver Foundation, Diabetes Canada, Salvation Army Annual Campaign, Kentville or a charity of choice. Messages of condolence may be sent to the family by visiting: www.demontfamilyfumeralhome.ca