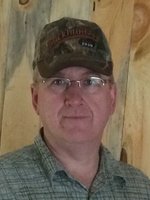 Terry Wade Barkhouse
It is with great sadness that we announce the passing of Terry Wade Barkhouse, of Ardoise, Hants Co., on Saturday, April 7, 2018 in Hants Community Hospital, Windsor, at the young age of 53. Terry was born July 5, 1964 in Windsor, to Ronald and Joan (Peach) Barkhouse.
Terry was a loving husband, father, son, brother and uncle. He enjoyed getting away to his camp in Cape Breton, where he had hunted for more than 25 years. He loved hunting deer around the area and could sit and talk for hours about past hunts or listen to someone else's own hunting stories. He never got tired of talking or listening about hunting. Terry also loved trolling the lakes for trout in the highlands with his son, Ryan. He loved working with his brother at their machine shop, Ryjobar Machining, in Windsor.
Terry is survived by his wife, Annette (Leary), son, Ryan; parents, Ronald and Joan Barkhouse; brothers, Murray (Atasha), Michael (Lisa), Danny (Sharon); sister, Jennifer (Clyde) DeWolf. He also has seven nieces and nephews and eight great-nieces and great nephews.
The family would like to thank Dr. Tim Matheson and all the nurses on Unit 200 of Hants Community Hospital. You were all wonderful and supportive to us at this difficult time.
Arrangements have been entrusted to DeMont Family Funeral Home & Cremation Service, 419 Albert Street, Windsor, NS (902-798-8317). As requested by Terry, there will be no visitation and a small private family funeral will be held in DeMont Family Funeral Home Chapel. Interment will follow in Ste. Croix Cemetery, St. Croix. In lieu of flowers, donations in memory of Terry may be made to the Canadian Cancer Society, 5826 South St, Halifax, NS B3H 1S6; Hants Community Hospital, Palliative Care, 89 Payzant Dr., Windsor NS B0N 2T0 or a charity of one's choice. Messages of condolence may be sent to the family by visiting: www.demontfamilyfuneralhome.ca