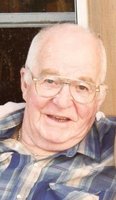 Franklyn Lawrence Sanford
SANFORD, Franklyn Lawrence
Passed away peacefully, in Windsor, in the early hours of Tuesday, March 27, 2018. Born to Edna and Lewis Sanford on August 10, 1934, Frank spent his youth growing up on the family farm, in Lower Burlington, along with sister, Helen.
Frank had a strong work ethic and could turn his hand at most anything he put his mind to. He began working as a carpenter for Harbour Construction shortly after leaving school and worked his way up with the company retiring after 30 plus years as a superintendent in their water and sewer division.
At the age of 18, he stopped at a little store in Tuft's Cove for a pack of cigarettes. When he came back to the car he announced to his friend that he just met the woman he was going to marry. She made him work for it, but Frank did indeed marry his first love, Lorna (Sim) in September 1954, and they had 52 wonderful years together. They spent most of their married life in and around the Dartmouth area, during that time he used his many skills to build them their first home. After moving to Wellington, they turned their acreage into a beautiful garden and park like setting where, both the house and yard always seemed to be having some improvements in the works. He not only had a mind for carpentry but also mechanics, always fixing up whatever was needed and eventually started his own mechanical and small engine repair and woodworking shop in the back yard. That shop eventually produced a significant portion of his family furniture.
No man was prouder of his family than Frank. In his eyes, his son and daughter could do no wrong, and that also went for the grandkids. He loved nothing more than spending time with his family and looked forward to every single visit. Many tears were shed whenever those visits ended.
After Lorna passed away, Frank had the good fortune to find companionship with Sarah, who welcomed him back to the Bay of Fundy, where he was raised.
Frank is predeceased by his mother and father, Edna (Weaver) and Lewis Sanford; sister, Helen Sanford; and his wife, Lorna (Sim) Sanford. He leaves to mourn, Sarah Sanford; his children, Eric (Brenda) Sanford/Hoskin and Kelly (Derek) Avery; his grandchildren, Corey and Britney Avery, and great grandchildren, Kiera and Aiden.
Frank was not one for pomp and ceremony. To that end, there will be a small celebration of his life at MacLeod House Lodge, where he lived. A private family interment will be held at a later date.
Those wishing to make a memorial donation may do so with the Heart and Stroke Foundation or the charity of your choice.
Arrangements have been entrusted to DeMont Family Funeral Home & Cremation Service, 419 Albert St., Windsor (902-798-8317). Messages of condolence may be sent to the family by visiting: www.demontfamilyfuneralhome.ca