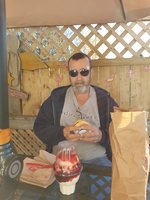 Matthew "Mago" "Matt" Thomas McCann
Passed away Wednesday, March 14, 2018, at the age of 50, following a battle with Leukemia. Matt was diagnosed with Acute Myeloid Leukemia in May of 2017 at which time he returned to NS to be with family during his treatments.
Raised in Mt. Uniacke; Matthew's independent nature took him many places, the last being Chemainus, BC, where he had lived and worked for the past five years. The weather in BC along with his circle of friends and co-workers gave him a great deal of peace and joy.
Although a talented machinist by trade, Matt was also an accomplished cook and was known for his bread, pies and preserves which he happily shared with others. He had a love of all animals, but a special fondness for dogs. Matt loved to work the soil and was well known for his gardens of vegetables, ornamentals and house plants. Family was the most important thing in Matt's life. He loved family gatherings, especially when they included a good meal. He loved Elizabeth's turkey dinners, a good burger and pizza.
Matt is survived by loving sisters, Christine, Annette and Elizabeth; brothers-in-law, Perry and Rob and by treasured nephews, Myles and Luke.
Matt was predeceased by his mother, Pauline (Morrison), father, Bill and brother, Ken.
A huge thank you to the teams on 8B Victoria General and 4th floor Medical Day for your care and compassion shown to Matthew and his family during this illness. Also, thank you to Dr. S Couban and RN/BscN Heather Lynch for agreeing to take him on as a transplant patient and giving him the extra months with his family. Without your hard work and the selflessness of a stranger willing to donate their stem cells, Matthew would have been taken sooner.
Arrangements have been entrusted to DeMont Family Funeral Home & Cremation Service, 419 Albert St., Windsor (902-798-8317). Matt requested no funeral service and we will honour his wishes, by having a drop in celebration of life on Saturday, March 24 from 2 – 4 p.m., in the Elmcroft Reception Centre at DeMont Family Funeral Home, 419 Albert St., Windsor. There will be a eulogy given at 2:30 p.m. A private interment will be held at a later date. Donations in memory of Matt may be made to Canadian Tire Jumpstart, PO BOX 770, STATION K, 2180 Yonge St, Toronto, ON M4P 2V9; Special Olympics Nova Scotia, 5516 Spring Garden Rd. #201, Halifax, NS B3J 1G6 or your local animal shelter. Messages of condolence may be sent to the family by visiting: www.demontfamilyfuneralhome.ca