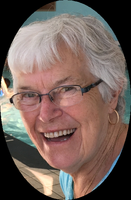 Anne Josephine Isenor
It is with great sadness that the family of Anne Josephine (Hennessey) Isenor of Falmouth, announce her passing on Saturday, February 10, 2018 at Halifax Infirmary Site, QEII. She was born in Glace Bay, on November 3, 1945 and was a daughter of the late John and Margaret (O'Hanley) Hennessey.
Anne was an active member of St. John the Evangelist Catholic Church community and spent many years volunteering with the local Catholic Women's League (CWL) and at The Windsor Elms seniors' village. Her many friends and family kept her schedule busy with lunches, suppers, and outings as she loved being out and talking with anyone who'd listen. She loved to travel, and didn't let an opportunity to do so pass her by, as she flew about the continent visiting family with the occasional trip to Vegas to maybe play a few slots. A Cape Bretoner through and through, she liked a hardy conversation and a strong cup of tea. Her son Paul often had to supplement her grocery list of "something sweet to have with my tea" with a few veggies and a bit of fruit.
She is survived by her sons, Craig (Nancy), Paul (Jody) and Daniel (Brittany); grandchildren, Bronwyn, Joshua, Sadie, Matthew, Jake and Joe; brothers, Ray (Nancy) and Greg (Marie); sister, Mary (Rob); and many nieces and nephews.
Besides her parents, Anne was predeceased by her loving husband, Dave; and her brother, Michael.
The family wishes to express their sincere appreciation to the staff at the Stroke Unit at the Halifax Infirmary Site, QEII.
Arrangements have been entrusted to DeMont Family Funeral Home & Cremation Service, 419 Albert St., Windsor (902-798-8317), where the family will receive visitors 6-8 p.m. Tuesday, February 13. A funeral service celebrating Anne's life will be held 11:00 a.m. Wednesday, February 14 at St. John the Evangelist Catholic Church, 339 King St, Windsor, Father John MacPherson officiating. Interment will be held in St. John the Evangelist Parish Cemetery. A reception will follow. Memorial donations in lieu of flowers may be made to St. John's the Evangelist Catholic Church, 339 King Street, PO Box 184, Windsor, NS B0N2T0 or to a charity of one's choice. Messages of condolence may be sent to the family by visiting: www.demontfamilyfuneralhome.ca