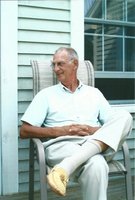 Louis John "Lou" Macaulay
Louis John "Lou" Macaulay, 85, of Mahone Bay, passed away Thursday, February 8 in The Sagewood Continuing Care, Lower Sackville.
Lou was born in Toronto, Ontario to Lewis John and Catherine (MacKay) Macaulay on June 28, 1932. He grew up attending Toronto Maple Leafs games with his father and brothers. He joined the Royal Canadian Mounted Police after high school. He then was a member of the Royal Canadian Air Force, where he worked as an air traffic controller, a career he continued as a civilian in Moncton until his retirement. He enjoyed carpentry, reading, gardening, the beach, and was a self-taught sailor and swimmer. Above all, he enjoyed the company of his family and his beloved wife Elaine.
Lou is survived by his daughters, Tannis (Alex), Sheilagh (Ron), and Brett (Dan); brother, Colin; and grandchildren, Iain (Lauren), Gillian, Kate, Claire, Madeleine, Christian, Troy, and Haley.
He is preceded in death by his wife, Elaine; and brother, Gordon.
The family wishes to extend their gratitude to the staff at The Sagewood for their care and compassion.
Arrangements have been entrusted to DeMont Family Funeral Home & Cremation Service, 419 Albert St., Windsor (902-798-8317). There will be no visitation and a private funeral service will be held. Private burial will follow in the summer, in Lou and Elaine's retirement home of Mahone Bay. Donations in memory of Lou may be made to any local food bank. Messages of condolence may be sent to the family by visiting: www.demontfamilyfuneralhome.ca