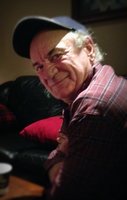 Thomas "Tom" Michael Lawrence
LAWRENCE, Thomas Michael
Age 64, of Falmouth, passed away tragically at his home on February 5, 2018. Born in Windsor, he was the son of Joan Lawrence (Boyd) and the late John Lawrence.
Tom, as he was known to everyone, was a favourite son of Falmouth and will be dearly missed by everyone who knew him. Tom was known for his big heart, wit mind and infectious smile. He was a man of many talents and had the unique ability to create just about anything with his hands. Tom was an avid woodsman and enjoyed working at his sawmill, which he built. Tom was also known for making beautiful barrels, wood shingles and apple ladders. Tom had much love for his family and friends, tractors, Ford trucks, restoring old barns and reading.
Tom is survived by his children, Tracy Lawrence (Bill), Tom Lawrence (Sarah), Holly Fletcher (Kevin); grandsons, Tyler Cochrane and Brendan Fletcher; siblings, John (Cindy), Tony (Kathy), Mary (Doug), Robert (Cathy), Stephen (Allashuwa), Fred (Crystal) and Susan (Robert); and several nieces and nephews.
Arrangements have been entrusted to DeMont Family Funeral Home & Cremation Service, 419 Albert St., Windsor (902-798-8317). A celebration of life will take place at the Falmouth Community Hall, 147 Falmouth Back Road, on Saturday, February 17 from 3-5 p.m. Donations in memory of Tom may be made to a charity of one's choice. Messages of condolence may be sent to the family by visiting: www.demontfamilyfuneralhome.ca