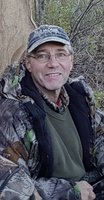 Alden Leverett Cunningham
CUNNINGHAM, Alden Leverett
Age 64, of Windsor, Hants Co., passed away peacefully, surrounded by family, on Tuesday, January 30, 2018 at home. Born on October 31, 1953 in Windsor, he was the son of Leverett "Biff" and the late Ethel (Burgess) Cunningham of Mount Denson.
Alden is survived by his loving wife of 28 years (plus 11), Donna (Fisher); sons, Shannon (Sali), Dartmouth; Keaton (Shannon), Wolfville; daughter, Kezra, at home; twin sister, Aletha "Sis" (Richard) Gordon, Mount Denson; grandchildren, Brodie and Colin; step grandchildren, Natalie and Ronan.
He was employed for 19 years as a route driver for Pepsi Bottling Group (Canada) Co. in Dartmouth and at Allen Beverages in Windsor for 14 years. He was diagnosed with liver cancer in 2014 and given six months but fought a courageous battle and gave us four wonderful years. Alden was a loving son, brother, husband, father, grandfather, uncle and friend. He lived life to the fullest, an avid sportsman, enjoying hunting, fishing, camping and four wheeling. He loved being outside in nature. He was happiest on the Mountain. His enthusiasm was infectious and he enjoyed sharing his time with family and friends at his camp. He is loved and we will miss him greatly along with his sense of humor and quick wit.
Arrangements have been entrusted to DeMont Family Funeral Home & Cremation Service, 419 Albert Street, Windsor (902-798-8317). A celebration of life will be held Wednesday, February 7 from 2-4 p.m. in the Windsor Legion, 35 Empire Lane, Windsor. A family interment will take place at a later date. In lieu of flowers, donations may be made to Hants West Wildlife Association, to inspire a new generation of hunters, 596 Bog Rd, Hantsport, NS B0P 1P0 (c/o PO Box 2605, Windsor, NS B0N 2T0). Messages of condolence may be sent to the family by visiting: www.demontfamilyfuneralhome.ca