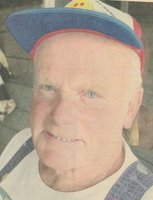 Roland "Rolie" Arthur Boyd
84, of Union Corner, passed away peacefully Sunday, January 28, 2018, at Dykeland Lodge, Windsor. Born May 7, 1933, in Montreal, Quebec, he was a son of the late Wilfred Arthur and Berdella (Benedict) Boyd.
Rolie was a heavy equipment mechanic and worked in several provinces. He did farm work for years, worked in construction and was foreman for several power plant projects across Canada. He helped in building the hospital in Cornerbrook. Upon returning to Nova Scotia, he founded and managed Rolie Boyd Contracting Ltd. and RoJo Holdings Ltd. He owned McLean's Esso for 10 years. He loved oxen ever since he was a child, and was a well known ox teamster, having his own from 1977-1999. He travelled the exhibitions with them for 22 years. He was a member of the Hants County Ox Association, as well as the Kings County and Maritime Associations. He was a former member of the Millstream Barbershop Chorus. He sang with Roger Taylor's Hants Community Chorale and the Newport Baptist Church Choir. He also served on the executive of the Post Polio Awareness Society of Nova Scotia, having had polio when he was an infant of six months. He enjoyed traveling and camping. He will be remembered as a positive gentleman who had risen over his adversities in many areas.
Rolie is survived by his loving wife of 62 years, Joan (Hazel); sons, Dwight and Adrian (Ann Timmins); grandchildren, Melissa, Josh, Elisha, Jayson and Abbey, several great grandchildren; sister, Gwen Barrett; brother-in-law, Harvey Laviolette; half sisters, Lorraine and Christine; half brothers, David and Hensley; several nephews and nieces.
Besides his parents, Rolie was predeceased by sister, Rosemary Laviolette; step mother, Sheila Boyd; half brother, Nicholas Boyd.
Arrangements have been entrusted to DeMont Family Funeral Home & Cremation Service, 419 Albert Street, Windsor, NS (902-798-8317). A funeral service celebrating Rolie's life will be held at 2 pm, Friday, February 2 in the DeMont Family Funeral Home Chapel, Pastor Rick Manuel officiating. A reception will immediately follow in the funeral home's Elmcroft Reception Centre. Interment will take place in Windsor Forks Community Cemetery. In lieu of flowers, donations in memory of Rolie may be made to Abilities Foundation of Nova Scotia, 3670 Kempt Rd., Halifax, NS B3X 4X8 (902-442-5011). Messages of condolence may be sent to the family by visiting: www.demontfamilyfuneralhome.ca