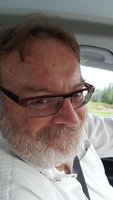 Robert John Haywood
HAYWOOD, Robert John "Bob"
Bob was a fierce trade unionist, a lover and seller of books, and a man of deep convictions. He grew up in Chelsea and Hull, Quebec, before moving onto a life that was committed to making the world a better place. With his life partner Deb, he lived and worked in the NWT, Iqaluit, Quebec and Ontario before settling on their small farm in rural Nova Scotia.
Bob will be sorely missed by a family that loved him so very much: Luke and Heather McGuire, Liam, Emmett and Lily; Hillary McGuire, Mike Marsh and Drake Douglas; Kendra and Terry McCreadie, Braelyn, Everly and Lochlan; Laura Haywood and Debbie McLaughlin. All will remember a father, grandfather, and cherished friend who gave so much of himself and asked for so little in return.
Bob would have much preferred donations to flowers. Like Mother Jones, he would mourn the dead but fight like hell for the living. Either Our Times or Labour Start will benefit from your support. To donate online, please visit ourtimes.ca or labourstart.org/donatenow.
The family will hold a private gathering to celebrate Bob's life. In the words of the Big Lebowski, The Dude Abides.

Arrangements have been entrusted to DeMont Family Funeral Home & Cremation Service, 419 Albert St., Windsor (902-798-8317). Messages of condolence may be sent to the family by visiting: www.demontfamilyfuneralhome.ca