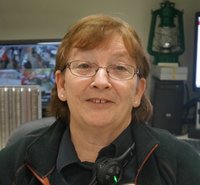 Marlene Linda Murphy
It is with heavy hearts that we announce the passing of Marlene Linda (O'Leary) Murphy, of Ellershouse, on January 1, 2018. She passed away peacefully at the Hants Community Hospital, Windsor, with her loving husband by her side, after a courageous battle with cancer. Marlene was the daughter of the late Foster and Dorothy (Shunamon) O'Leary.
Born in Windsor on October 4, 1956, Marlene loved being part of a large loving family with 12 siblings! She regularly took part in teasing the younger siblings, who took great pleasure in her fun, loving nature. She loved her weekends at the camp in Stillwater, fishing and spending time with her family, and gardening at home. Most recently Marlene was the manager of the Tim Horton's in Windsor for over 20 years. She cherished her Tim Horton's family and the regulars that visited the store. Her beautiful smile and uplifting sense of humor will be greatly missed.
She is survived by her husband, Blake, Ellershouse; son, Gregory, Ellershouse; mother-in-law, Jesse Murphy; granddaughters, Jessica Singer (Luke) and Alex Singer, Three Mile Plains; great grandson, Owen; sisters-in-law, Joan Richardson, Hammonds Plains; Linda Hennesey, East Chezzetcook and Donna (Charles) States, Sackville. Also surviving are six sisters; Kaye O'Leary, Falmouth; Bev (Lloy) Matheson, Falmouth; Jean (Ken) Chisholm, Ellershouse; Joyce (Bill) Redden, Windsor; Gail Demmings, Falmouth; Christine O'Leary (Dale), Garlands Crossing; four brothers, Doug (Carol) O'Leary, Ardoise; Mike (Judy) O'Leary, Bedford; Kevin (Lori) O'Leary, Falmouth; Kelly O'Leary, Belmont and sister-in-law, Pam O'Leary, New Minas and the many nieces and nephews that formed part of this large, loving family.
Marlene was predeceased by her father, Foster; mother, Dorothy; sister, Carol; brother, Dean; brothers-in-law, Rick Demmings, Maurice McNeille, Clarence Murphy and father-in-law, Owen Murphy.
Arrangements for cremation have been entrusted to DeMont Family Funeral Home & Cremation Service, 419 Albert St., Windsor (902-798-8317). A funeral service celebrating Marlene's life will be held 1 p.m., Saturday, January 13 in Ste. Croix United Church, 5477 Highway 1, Rev. Krista Anderson officiating. A reception will follow at the Ellershouse Community Hall. In lieu of flowers, donations in memory of Marlene may be made to Tim Horton Children's Foundation, Canadian Cancer Society a charity of one's choice. Messages of condolence may be sent to the family by visiting: www.demontfamilyfuneralhome.ca