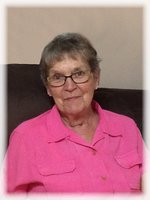 Louise Jeanette Sabean
SABEAN, Louise Jeanette (Patterson)
Age 81, of Falmouth, passed away peacefully on December 13, 2017 at Hants Community Hospital, Windsor, with her husband and family by her side.
Born in Windsor on September 7, 1936, she was the daughter of the late Clarence and Edith (Mosher) Patterson. She loved to go for long scenic drives, especially stopping at the beach. She loved playing bingo and multiple card games. She was known for her witty personality, and always managed to catch people off guard and make them laugh. She worked for Canada Post since 1976, and was the second longest employee of Canada Post.
Louise will be greatly missed by her husband, Bill; sons, George, Argentina; Dwight, Dartmouth; Mark (Paula), Falmouth; daughter, Lia Peterson, Falmouth; grandchildren, Brandon and Natalie Sabean; Danielle and Madison Sabean; Dustin, Parker and Laura Peterson; sister, Dorothy (Kevin) Walker, Windsor; many nieces and nephews. She was predeceased by brothers, Reuben, Everett, Lloyd, Gilbert, Ronnie, Gordon, Robert, and Francis Patterson; sisters, Geneva Coles, Lena MacDonald, Marjorie Robarts, Jean Hunter and two in infancy.
Arrangements have been entrusted to DeMont Family Funeral Home & Cremation Service, 419 Albert St., Windsor (902-798-8317), where the family will receive visitors from 6-8 p.m. Tuesday, December 19. A funeral service celebrating Louise's life will be held 2 p.m., Wednesday, December 20 in St. George's Anglican Church, 465 Sangster Bridge Rd., Falmouth, Rev. Tom Henderson officiating. A private, family-only interment will immediately follow in the church cemetery. Donations in memory of Louise may be made to the Alzheimer's Society of Nova Scotia, 112-2719 Gladstone St., Halifax, NS B3K 4W6. Messages of condolence may be sent to the family by visiting: www.demontfamilyfuneralhome.ca