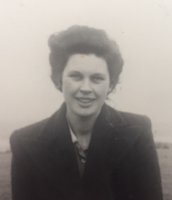 Joan Mary Jones
JONES, Joan Mary
It is with great sadness that the family announces the passing of Joan Mary Jones, age 92, on October 16, 2017 in Haliburton Place, Windsor. Joan was born February 21, 1925 in Manchester, England, the oldest daughter of Alfred and May (Bevan) Sigsworth.
Joan grew up in the city of Leeds and at the age of 17 joined the Women's Auxiliary Air Force in Sopley in south of England manning radar stations to detect German warplanes. On their downtime, the women would travel to nearby Bournemouth to a dance hall called the Pavilion. In 1944, Bournemouth also happened to be the holding depot for Canadian troops, in particular one RCAF Flying Officer, Thomas Jones. Tom and Joan were married on May 24, 1945 and, following Tom's return to Canada, Joan boarded the S. S. Stavangafjord bound for Canada in January 1946. Joan arrived as a war bride at Pier 21 in Halifax on January 14, 1946 to start a new life. Joan quickly adapted from city girl to living on a farm with Tom and started raising a family. Tom's career path took Joan and the family from that farm to Quebec to Barrie, Ontario and back to Nova Scotia over the course of a few decades.
Joan had a passion for gardening and flowers were her main area of focus. She worked tirelessly to create beautiful flower beds and took great pride in them. She loved to travel, taking the family on many memorable family vacations as well as trips with just Tom to Europe, the US and the Caribbean. She was also an avid reader and crossword solver.
She is survived by her sister, Pam Tracey; sons, David (Linda), Elmsdale; Alan (Helen), Chester; Steve (Judi), Falmouth; daughters, Heather (Bruce) Tupper, Kentville; Kate (Jeff) Goodwin, Falmouth; grandchildren, Kevin, Jennifer, Tristan, Arianna, Sam and Ben Jones, Ann Gallibois, P.J. and Zack Tupper, Sara Lee Whitman, Tara Baxter, Chiara, Julian and Ethan Napolitano, and 15 great-grandchildren.
Joan was predeceased by her loving husband of 69 years, Tom; brother, Samuel in infancy; second son, Ken; and granddaughter, Krista Jones.
We would like to thank two special caregivers, Pam MacDonald and Debbie Graves, for their incredible efforts and love for Joan over her last few years. Also, a thank you to the staff of Haliburton Place for giving Joan professional care in her last few months.
Arrangements have been entrusted to DeMont Family Funeral Home & Cremation Service, 419 Albert St., Windsor (902-798-8317). A private family memorial will be held at a later date and the cremated remains of both Joan and Tom will be scattered over the Bay of Fundy as requested by them. Donations in memory of Joan may be made to the Alzheimer's Society of Nova Scotia or UNICEF Canada. Messages of condolence may be sent to the family by visiting: www.demontfamilyfuneralhome.ca